What we do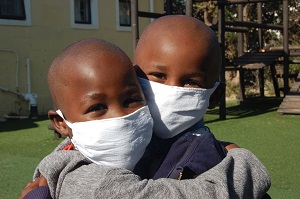 The focus of our work is caring for children living with and affected by HIV/Aids, full-time and in a family environment. When a child cannot be looked after by family members or neighbours, he or she is placed via the Magistrate's Court at the HOKISA Home. A careful assessment of the situation of each child is part of the admission process. Where ever possible, family members are encouraged to keep in touch with the child.
HOKISA cares for up to twenty children in a family-like environment seven days a week, 24 hours a day. People have recognized the improvement in health and wellbeing of some children who arrived at the home very sick.
HOKISA provides training and skills development: Since the opening we have organised workshops for all staff members around topics like: "Facts around HIV/AIDS", "Early Childhood Education", "Nutrious food for children with a weak immune system", "Management and Bookkeeping", "1st Aid" and "Personal Budgeting".
HOKISA supports HIV/Aids awareness: A youth group meets regularly at the HOKISA Peace House, to see educational films and to have discussions around issues that are relevant to the youth in the township – often but not always related to HIV. Educational outreach to the greater community of Masiphumelele and beyond is part of our work.
HOKISA supports people living with HIV/Aids: We help individuals to apply for financial support like the disability grant, and where needed, we help with food parcels until such a grant comes into effect.
---
HOKISA Ikhaya Lethu: Our Home in Masiphumelele
HOKISA Ikhaya Lethu means HOKISA Our Home, a name given by the community of Masiphumelele.
It is located in the heart of the township, behind the Day Care Clinic and in walking distance of the Primary and High School.
The HOKISA Home cares for up to twenty children fulltime. The HOKISA playground is open to all children in the neighbourhood. A vegetable garden provides food for the children and the team.
The HOKISA Home is supported by friends of HOKISA in South Africa and overseas, mainly Germany, the Netherlands, the USA, the UK, Scotland and Ireland.
---
Our International Friends
FreundInnen von HOKISA in Deutschland

Vrienden van HOKISA in Nederland
Friends of HOKISA in the USA