Pursuing quality care and development
Thu 20th Jul, 2023
Philip Rihlampfu
0
0
Positive change can only occur when innovative solutions that challenge the status quo are implemented. HOKISA embraces this, and our trailblazing commitment to changing children lives and making a difference on a daily basis is at the heart of everything we do.
How did HOKISA arrive at this point? It is a fitting question after 20 years of working in the community, "starting small, very small". Perhaps there is nothing better to say than yes, HOKISA has promoted good – to the best of our collective ability, with mistakes and disappointments along the way, but also with successes and joy.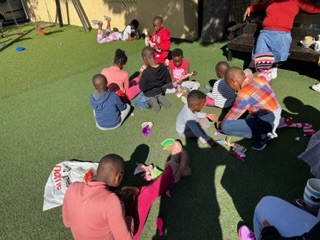 Quality care is central to our identity. Our mission to change lives through service delivery is what distinguishes us. Inclusion, dignity, equity, and diversity apply to our internal systems as well, and we promote from within to create opportunities to engage with children and families, maximizing their potential for restoration and reunification.
We do live in a large house with many noisy children; we try to spend time with each child alone and in a quiet environment (in the play therapy room) as much as possible; it is critical that this is individual time and attention. Having a daily amount of quiet time is a very important part of any child's development, and it's not always something we can make happen but also supported at HOKISA, especially if we're informed ,we can work hard to make it happen.
The study room is a place for after-school learning and creativity. We recently had the tables and cupboards repainted. Penny has established a rapport with the children and is doing her best to meet the learning and developmental needs of each individual child. Our daily development program is designed to help children attain their greatest potential. It has been demonstrated that they promote children's cognitive development, linguistic abilities, social skills, and emotional well-being. It is carried out in a manner that is enjoyable and engaging for the youngsters. It is also adaptable enough to meet the individual demands and interests of the youngsters. We are able to develop a care plan for each unique child based on assessments and observations.
It is critical to provide chances for children to meet their recreational needs. We provide our children a range of activities from which to pick in order for them to be healthy, happy, and well-rounded. Our weekend and holiday plans are designed to suit the recreational needs of the young people.